A Community Rallies Around (2005)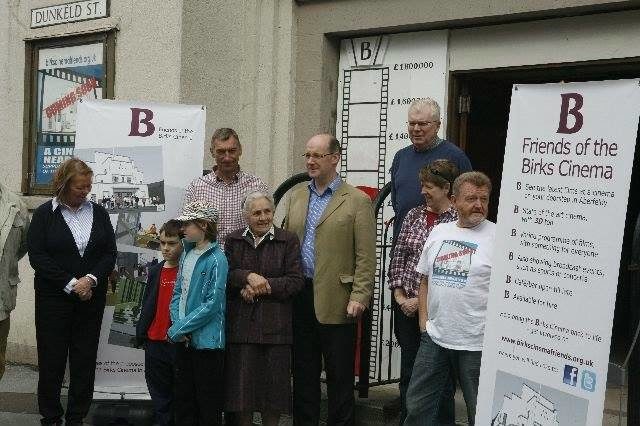 Cue a small group of Aberfeldy film-obsessed and cinema-deprived local residents – members of the Heartland Film Society – who dared to dream when they saw the For Sale board appear on the now derelict cinema in 2005. The Friends of The Birks Cinema charity was born with the aim of acquiring the building and reviving it as a community-run social enterprise.
Fortunately a Scotland-based cinema expert, Ron Inglis, supported their ambitions. If the cinema moved into the modern digital age, he advised, it could provide a wide film programme including the latest movies despite its remote location. And importantly, he also confirmed all the additional benefits a cinema would bring to a rural community – cross-generational entertainment and social inclusion, a sense of pride of place plus economic improvement.
The less good news was the funds required to make this a reality… a total of £1.8 million.
A grant of £320,000 from the Scottish Government's Town Centre Regeneration Fund enabled purchase of the land and building in November 2009 and the repairs required to make it wind and watertight ahead of another winter. And a private trust donation funded an architect conversion assessment
Regular visits by The Screen Machine mobile cinema – which serves the Scottish Highlands & Islands – were organised to gain momentum for a cinema revival in Aberfeldy.
Some showbiz stardust then boosted these efforts when actor Alan Cumming – who was born in the town – agreed to become the cinema's patron.
In 2010, an 'Open Doors' event at the cinema exhibited plans, encouraged memberships and promoted the project to the public. And in the October, the documentary "Freedom of Aberfeldy" (a wartime propaganda and public information film made in 1943) became the first film shown in the cinema for 28 years – albeit on a temporary screen in a freezing cold auditorium – to a sell-out audience!
Local business acumen and artistic talent were harnessed – including fundraising concerts and a 'postcard' auction – local and national politicians gave their support, and celebrities from the film world and the media were approached for sponsorship.
Stories of the original cinema's heyday were provided by local residents plus key items of memorabilia salvaged from the building – the dream was starting to become a reality.