»
Activities
»
Lego Coding Club for children with additional support needs
Activities at
the Birks
Lego Coding Club for children with additional support needs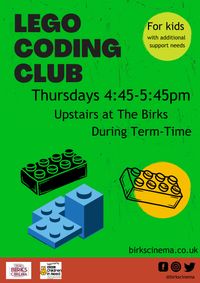 Our Lego Animation Club for youngsters with Additional Support Needs is a popular after-school creative activity.
Led by experienced practitioners and supported by enthusiastic adult and young volunteers (aged 15-17) – trained in animation skills by Edinburgh's Animation Jam team – the group is helped to bring their ideas to life using Lego models and ipads.
… And the finished animations will be enjoyed by cinemagoers on the big screen – hopefully inspiring some future movie animators!

Please note this activity is held during term time only.
Upcoming Activities
Lego Coding Club for children with additional support needs
The Birks Cinema
16:45 - 17:45
Lego Coding Club for children with additional support needs
The Birks Cinema
16:45 - 17:45
Lego Coding Club for children with additional support needs
The Birks Cinema
16:45 - 17:45
Lego Coding Club for children with additional support needs
The Birks Cinema
16:45 - 17:45
Lego Coding Club for children with additional support needs
The Birks Cinema
16:45 - 17:45
Lego Coding Club for children with additional support needs
The Birks Cinema
16:45 - 17:45