»
Activities
»
Acoustic Music Sessions
Activities at
the Birks
Acoustic Music Sessions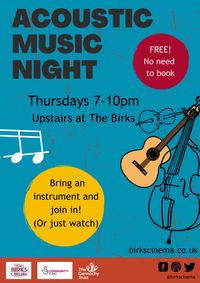 We love to share Scotland's musical heritage - one of the foundations of our identity and culture. We're lucky in Highland Perthshire to have a wealth of musical talent connecting us to the places and memories we cherish. Here at The Birks, we are proud to provide a place for musicians of all levels to gather and play together on a weekly basis.
Join us every Thursday from 7-10pm - with or without an instrument!
Our acoustic music sessions feature Celtic classics, traditional tunes and renditions of many all-time favourite melodies on the cafe mezzanine level (fully accessible).
Local performers are joined by guest musicians for laid-back evenings of music and song. Feel free to bring your instrument and join in, or come to watch and listen.
Our Cafe Bar is open for you to enjoy a drink or light bite during the session
No booking needed - just turn up - entrance is free!
Upcoming Activities
Acoustic Music Sessions
The Birks Cinema
19:00 - 22:00
Acoustic Music Sessions
The Birks Cinema
19:00 - 22:00
Acoustic Music Sessions
The Birks Cinema
19:00 - 22:00
Acoustic Music Sessions
The Birks Cinema
19:00 - 22:00
Acoustic Music Sessions
The Birks Cinema
19:00 - 22:00
Acoustic Music Sessions
The Birks Cinema
19:00 - 22:00